SPOILERS AHEAD, READ AT YOUR OWN DISCRETION!
If you haven't played Mystic Messenger completely, you might read something that will reveal to you the complete story of the game. So please pay attention!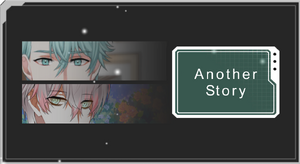 Another Story is mode in Mystic Messenger, that was released on September 8, 2017/2017.09.08 for Android users and a few days later for IOS users. It is one of the three modes available in Mystic Messenger, the others being Casual Story and Deep Story. It costs 300 HG to unlock the mode.
Unlike in Casual and Deep Story modes, outgoing phone calls cost 10 hourglasses and missed chat rooms cost 15 hourglasses to play in Another Story. The story also takes place 6 months after Rika's "suicide" rather than a year and a half later.
The only romanceable character is V.
Contents
This Route contains the following contents:
11 days of playtime
80 CGs
7 different Endings
Calls to V
Full voiced Story Modes and Calls
New Message and Phone Call Ringtones added
V Route Freetalk added.
Trailer
Trivia
Before the new mode's reveal in the app, Cheritz had remained secretive about it's development other than a post on Tumblr that showcased a mysterious character alongside a new UI design (that has since been released in 1.7.8). On August 22, 2017 Cheritz uploaded the Opening Video and the mysterious character is revealed as Unknown.
Cheritz has since revealed that Another Story is indeed a story about V, in which he is the main character, and takes place over a course of 11 days. Both V and Rika's VA sing an original song for the new mode.
The route was supposed to be released August 2017 / 2017.08 but it was postponed another month due to Cheritz needing more time.
On a tumblr post, the top suggestion for Mystic Messenger is new route for V or Unknown.
Ad blocker interference detected!
Wikia is a free-to-use site that makes money from advertising. We have a modified experience for viewers using ad blockers

Wikia is not accessible if you've made further modifications. Remove the custom ad blocker rule(s) and the page will load as expected.