This is the list of official merchandise produced by Cheritz. They ship every Tuesday.
Note that price listed below does not include shipping charge (starts from $15) and customs in respective country if available.
RFA VIP Package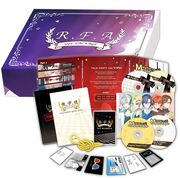 The limited edition package has been available since before the game's release. The package is priced at $79, and includes the following:
VIP members card tag along with its card holder and necklace. Behind the card, there's a special code that allows VIP members to get a profit within the game such as:

1000 Hourglasses,
All characters phone call cards, 
Additional ringtones (text message and phone call only).

6 business cards of RFA members
Original soundtrack and freetalk with DoubleTO, Han, and Sirius
Freetalk session with Jumin Han, ZEN, 707, Yoosung, Jaehee Kang, V, Rika, and Unknown's voice actor

Both freetalk are provided with English translation script

62 page RFA Orientation Guidebook
44 page RFA's Top Secret
Mint Eye bookmark
Cardcase & Strap Set (Sold Out)
Cardcase can be attached to the back of a phone to keep your card safe. Its size is 5.8 x 8.5cm, a bit larger than iPhone 5.
The mini strap is a plastic plug that can be attached to phone via audio jack. The size of the strap is 5 x 1.5 cm while the total length of the strap when unfolded is 14 cm. It is available for all main 5 characters for $5 each.



707 Mini Clear File (Sold Out)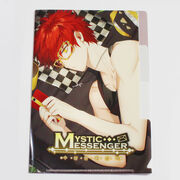 B5 sized (or 12 x 17.5cm) mini clear file for $1.






707 Spaceship Cushion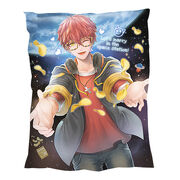 Mini cushion with 707 illustration print. Its fabric is made with Polyester (Filling included), with size 30x50 cm. Priced at $29.





RFA Dotted Mousepad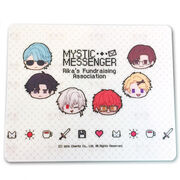 Width: 22 cm, Length: 17.5 cm, Height: 2 mm. Priced at $5.
External Links
Ad blocker interference detected!
Wikia is a free-to-use site that makes money from advertising. We have a modified experience for viewers using ad blockers

Wikia is not accessible if you've made further modifications. Remove the custom ad blocker rule(s) and the page will load as expected.