SPOILERS AHEAD, READ AT YOUR OWN DISCRETION!
If you haven't played Mystic Messenger completely, you might read something that will reveal to you the complete story of the game. So please pay attention!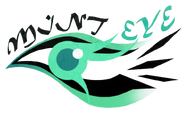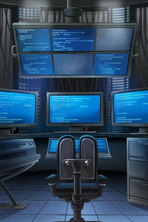 Mint Eye is another organization started by Rika. Unlike RFA, Mint Eye has more extreme motives and is mostly known as a religious group striving to find eternal paradise.
Unknown is part of Mint Eye and is using the hideout for his own reasons.
Several of the endings obtainable from the main characters' routes are involved with Mint Eye, notably 707's.
Background
Mint Eye was established by Rika out of her radical ideas to eliminate fear and pain from the world, and the goal of the organization is to reach a state of happiness in an "everlasting party" known as "Magenta." Before her alleged death, Rika began building the organization office using the funds from some of the parties held by RFA, the blueprints of which are securely stored in her apartment. During this time, she scouted Saeran Choi to be one of her followers, and a falling-out with V further pushed her to put her plan into motion.
Mint Eye has several ranks within the organization. As the leader and founder of the group, Rika is known as the "Savior." Her followers are divided into Believers and Disciples, where Disciples are higher-ranked and carry out important tasks. As evidenced with Saeran, recruits are incarcerated and drugged with "medication" (toxins including peyote cactus, methanol, and unspecified mushrooms) while undergoing a mental brainwashing process.
Story
In the beginning of the game, Unknown invites the player to Rika's apartment, where she meets RFA. Beginning on the 5th Day, he begins to implement a plan to kidnap the player as hostage to lure the other members and force them to join Mint Eye by first modifying the security system so that she will be trapped in there. The way the plan is implemented varies in each of the characters' routes and endings.
The player is brainwashed and forced to join Mint Eye in the Prologue Bad Ending, Yoosung's Bad Story Ending 2; Zen's Bad Relationship Endings 1 and 2; and Jaehee's Bad Relatonship Endings 1 and 2. On the other hand, she willfully makes the decision to join Mint Eye in Zen's Bad Story Ending 3 and Seven's Bad Story Ending 1.
As for the other characters, Yoosung is brainwashed and forced to join Mint Eye in the Casual Story Bad Ending and his Bad Story Ending 2. Zen is forced to join Mint Eye in his Bad Story Ending 3.
Aftermath
In the events of the first half of the Secret Ending, Rika attempts to inaugurate the player, Seven, and Vanderwood into Mint Eye, which causes Saeran to have a mental breakdown. In the process, he shoots and kills V in rage. Jumin arrives shortly afterwards with bodyguards and apprehend all of the members of Mint Eye, effectively disbanding the cult.
Saeran, as well as the other members of Mint Eye, undergo rehabilitation, and most of them are able to return to their normal lives. Rika develops aphasia from the shock of V's death, but ultimately did not undergo any charges, as Seven had deleted evidence to prevent Saeran's name from going public.
Known Members
Invitation
Meet the people who will love you forever.
Attend the endless party

Don't you want to escape from this filthy world?
This is an invitation to paradise.

Are you suffering from your past?
We will help the pain go away.

A world filled with pleasure...
A world filled with truth...
A world with no tears...
A world with no rejections...

Accept the angel's invitation.

Magenta,
Where everyone is happy...
Ad blocker interference detected!
Wikia is a free-to-use site that makes money from advertising. We have a modified experience for viewers using ad blockers

Wikia is not accessible if you've made further modifications. Remove the custom ad blocker rule(s) and the page will load as expected.